Bill Gallagher: Leading CFG Merchant Solutions to Success in the Revenue-Based Financing Industry.
William "Bill" Gallagher is a successful business operator and the President of CFG Merchant Solutions. CFGMS is a company that provides financial services and solutions to small and mid-sized businesses throughout the United States. Bill has over 25 years of experience in the financial services industry and has worked with numerous businesses in various sectors. 
Mr. Gallagher graduated from Villanova University and holds a bachelor's degree in economics. Following the completion of his education, Bill started his finance career in the Capital Markets Division of Lehman Brothers. He spent thirteen years there and held several senior-level fixed income trading positions. He then moved on to run the short-term trading desk at Barclays Capital. 
In 2010, he and Andrew Coon, CEO of CFG Merchant Solutions, established a factoring business called CapFlow Funding Group. Then, in 2015, they launched a merchant cash advance platform, which became what we know today as CFGMS. As a key decision maker in the company, Mr. Gallagher has been instrumental in its impressive growth, strategy, and success. CFGMS has since become one of the leading players in the revenue-based financing industry.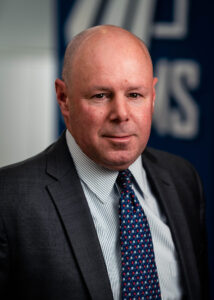 President of CFGMS, Bill Gallagher 
Bill Gallagher's Impact on the Revenue-Based Financing Industry Through CFG Merchant Solutions.
Under Mr. Gallagher's leadership, CFG Merchant Solutions has expanded its portfolio of financial products and services. They have helped thousands of businesses to secure financing and grow their operations. Approximately $1.65 billion in working capital has been provided to small businesses across the United States by CFGMS and its affiliate, CapFlow Funding, as of the conclusion of 2022.  
To summarize, Bill Gallagher has gained significant recognition in the industry due to his proficiency in commercial lending, working capital management, and financial consulting. Bill has also been a leader in advocating for the Revenue Based Finance Industry with various Federal and State legislators and regulators and encouraging best practices throughout the industry. In addition to his professional achievements, Bill has also been invited to speak at various commercial finance tradeshows and has been interviewed by fellow industry professionals. His contributions to the industry extend beyond his professional expertise, as he is also committed to sharing his knowledge and insights with others in the field, making him a valuable resource for aspiring professionals and business owners.