Connecticut has joined the ranks of states championing transparency and consumer protection in commercial financing. On June 28, Governor Ned Lamont signed Senate Bill 1032, titled "An Act Requiring Certain Financing Disclosures." This legislation mandates providers of sales-based commercial financing to make comprehensive disclosures to borrowers. Connecticut now stands alongside states like Utah, California, Georgia, New York, Florida, and Virginia in enforcing regulatory disclosure laws for commercial financing providers.
Defining Sales-Based Financing Regarding SB 1032
Connecticut's Act uniquely focuses on sales-based financing, limiting it to transactions not exceeding $250,000. This means that recipients intend to use this financing primarily for business purposes rather than personal, family, or household needs. Sales-based financing involves repayments made over time based on a percentage of sales or revenue. Or, through a fixed payment mechanism that adjusts according to sales or revenue.
Connecticut Disclosure Law Requirements  
The Act places specific disclosure requirements on providers of sales-based financing. Recipients need to receive a comprehensive array of information. Including but not limited to: the total financing amount, the disbursement amount (excluding any finance charges), the finance charge itself, the overall repayment sum (comprising the disbursement amount and finance charge), an estimate of the repayment period, as well as details regarding the frequency, mode, and amount of each payment. In cases where payments exhibit variability, a clear payment schedule and methodology for calculating variable payments must be provided.
Moreover, the Act necessitates the disclosure of any potential fees not covered by the finance charge. This encompasses draw fees, late payment fees, and returned payment fees. Additionally, any fees or charges related to prepayment must be outlined, along with a description of collateral requirements or security interests. Furthermore, the Act mandates the provision of information regarding any amounts provided to the business that will subsequently be paid by the provider to a broker. Lastly, the Act requires renewal financing deals to include any amount that is used to pay unpaid finance charges – known in NY as "double dipping."
Initial drafts of the legislation including reporting APR as it required in California and New York. However, the final version of the legislation removed the APR reporting requirement.
Exemptions and Registration
The Act requires providers and brokers to register annually with the Banking Commission and pay a fee, unless an exemption applies. Exemptions encompass entities such as banks, credit unions, and certain technology service providers. Additionally, providers who extend five or fewer commercial financing transactions in Connecticut in a twelve-month period are exempt.
Implications and Future Compliance
The Act's provisions will take effect on July 1, 2024. This gives businesses and providers ample time to adapt to the new requirements. It is crucial for providers and brokers to familiarize themselves with the Act's stipulations and ensure compliance to avoid penalties.
Connecticut's enactment of Senate Bill 1032 demonstrates a commitment to safeguarding businesses in the realm of commercial financing. By requiring transparent disclosures and mandatory registration, the state aims to foster a fair and trustworthy financial landscape. As other states consider similar legislation, it is evident that the movement towards greater disclosure and protection in commercial financing is gaining momentum across the United States.
CFGMS ISO Partners Enjoy a Direct Line to Compliance Department
ISO partners affiliated with CFGMS are encouraged to directly contact Dan Taylor, the Vice President of Compliance & Data Assurance, for any inquiries or further information regarding disclosures in different states. Dan Taylor is readily available to provide support and address any questions ISO partners may have.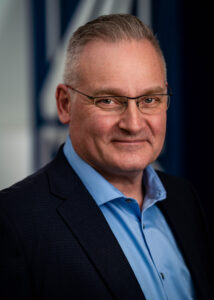 VP of Compliance & Data Assurance, Dan Taylor, can be reached at compliance@cfgms.com