CFG Merchant Solutions solidifies its efforts to remain ahead of disclosure regulation with Dan Taylor
Dan Taylor is the Vice President of Compliance and Data Assurance at CFG Merchant Solutions. CFGMS is a financial services company that provides working capital to small and mid-sized businesses in the United States. Mr. Taylor joined CFGMS in 2021.
In his previous roles, Mr. Taylor gained extensive experience in diverse areas of business. He has held leadership positions in various industries, including telecommunications, software, and technology services.
With a strong background in industry and regulatory compliance, data integrity and security, Mr. Taylor brings a unique perspective to his role at CFG Merchant Solutions. He is highly analytical, detail-oriented, and focused on finding practical solutions to complex problems. His commitment to excellence and his ability to navigate regulatory environments have made him an asset to the company.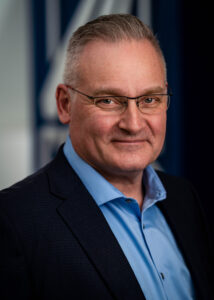 VP of Compliance & Data Assurance, Dan Taylor.
Dan Taylor brings a strong focus on compliance and data security to CFG Merchant Solutions
As VP of Compliance and Data Assurance, Mr. Taylor oversees the company's compliance with various federal and state regulations and ensures that all CFGMS operations follow these regulations. Regulators are increasingly scrutinizing alternative finance companies to ensure that they are operating in a safe and sound manner. Making sure they are protecting consumers and investors, and complying with all relevant laws and regulations. Mr. Taylor ensures that we identify and mitigate risks before they become issues.
He also manages the company's data assurance and data privacy efforts. Which ensures that client data is secure and protected. Mr. Taylor's expertise in compliance, data assurance, and privacy has been instrumental in ensuring that CFGMS operates with integrity and follows all necessary regulations. His leadership has helped the company maintain its reputation as a trusted provider of working capital to small and mid-sized businesses across the United States.
Direct Line to Compliance Department for CFGMS ISO Partners
If CFGMS's ISO partners have any queries regarding funding active deals in the context of MCA disclosure regulations, they now have a direct line to the compliance department. Dan Taylor, the VP of Compliance & Data Assurance at CFGMS, is available to offer assistance and advice. Dan has extensive knowledge of the regulatory requirements for MCAs in various states, including California, Utah, and Virginia. For any questions related to funding active deals or general guidance on MCA compliance, ISO partners can contact Dan directly at dtaylor@cfgms.com or call the main line (844-662-3467) to schedule a call with him.